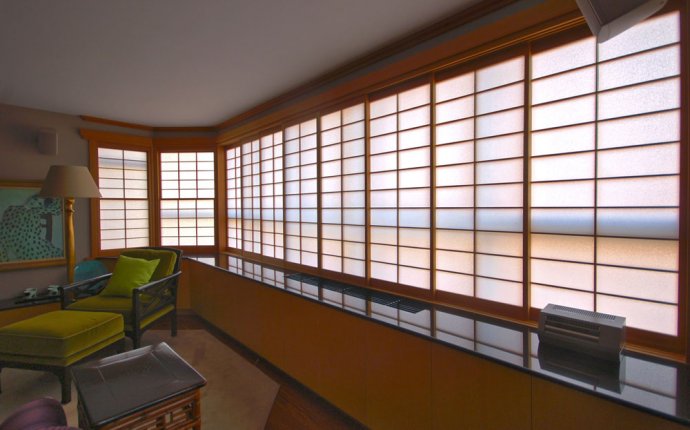 Shoji Windows Screen
Shoji screens work well for windows where you need privacy but still want light to pass through.
When it comes to adding Asian flair to your home decor, shoji screens are an ideal option. However, the screens don't only serve a decorative purpose - they can be used in a variety of practical ways throughout your home. In particular, shoji screens work well as window treatments because the panels between the screens' wooden frames are usually made of translucent rice paper that provide privacy as well as filtered light. Using the screens as window treatments does require some planning, though, and they may not be a good fit for all windows.
Style
Shoji screen window treatments, of course, work well in a room decorated in an Asian style. If your room features traditional Asian colors like red and gold, blue and white oriental pottery, bamboo furniture and Asian lanterns, shoji screens are an ideal complement for your windows, as long as they do not push your decor over into theme-park territory. However, you don't necessarily need to pair the screens with Asian decor. Because they have clean lines and a minimalist look, shoji screen window treatments also work well in a room with modern decor or where you want the eclectic look of a room with treasures gathered from many travels.
Size
Just because shoji screen window treatments fit your home's decor doesn't necessarily mean that they're the right option for your windows. The size of the windows that you plan to cover and the screens themselves is key. Traditional shoji screens that are used as room dividers or sliding doors are usually 3 feet by 6 feet. If your windows are narrow and measure less than 24 inches, you may have trouble finding a shoji that fits. On the other hand, if you have extremely large windows that measure more than 40 inches across, the screens may be too heavy to support themselves without reinforcement. However, you can also have shojii screens custom-made to fit your windows so you don't have to worry the dimensions.
Installation
When it comes to attaching shoji screens to your windows, you have a couple of options. For small or medium-size windows, adding hook-and-loop tape to the corners of the window frame and the back of the screen allows for easy installation and removal. If your window's top sash is recessed, you can add small wooden blocks to the corners of the window frame and adhere the hook-and-loop tape to them to account for the difference in depth. Because the screen is so easy to remove with the tape, it's an ideal option if you rent your home or like to change your decor frequently. If you prefer a sturdier installation, install small hooks on the window frame so the shoji screen can simply hang on the window by its top rail.
Custom Ideas
If you're making your own shoji screen window treatment, you don't necessarily have to follow the traditional design of white or off-white rice paper in the screen's inserts. Instead, customize the screen to add some pizzazz to your windows. For a brighter look, fill the screen's panels with paper in different shades for a multicolored window treatment - choose several colors that complement the rest of the room's decor to help the screen blend in. If you prefer a white or off-white color for your shoji screen, add visual interest to your windows by using traditionally colored paper that features textured patterns. The look is subtle, but it adds a little more dimension to your window treatments.
great development
me in motion
city skylines worst song
what is gonna be is gonna be sayings
american business executive
work vacation
motion head
21 startup
free downloadable inspirational words words
motion show
water startup
developmental milestones 2 years old checklist
how city are you
city above
milestone kids
the city below
under city
vacation express punta cana reviews
scratch fintech
startup companies in boston
tv motion
down motion
b2b
startup from
nanotechnology research
what is finance-related mobile technology
what does motion
point vacation
Source: homeguides.sfgate.com